Starfield is Bethesda's first original RPG in 25 years, and it's set in the grounded and realistic space of the 24th century. Almost three years after it was announced, we're getting a slow trickle of details about the game and when you can expect to play it. We've gathered all of the information we could find about Starfield below, including trailers, video updates, interviews, and concept art.
Now that we've officially entered Starfield's launch year, we're expecting to start hearing more from Bethesda about the big new space game. We'll continue collecting information about Starfield's factions, characters, and space flight right here. Here's everything we know so far about Bethesda's next RPG.
What is the release date?
What is the Starfield release date?
The Starfield release date is November 11, 2022. It'll be available on PC, Xbox, and as part of Game Pass on day one.
Starfield now has a Steam page
The upcoming interstellar RPG has a Steam page, and though it doesn't exactly give a full description of gameplay or what we can expect, it does confirm release date, and show us that Bethesda are starting to kick-off marketing for the game. In coming months we can likely expect even more reveals and details to surface, as they finally start talking more concrete details about the game.
Watch the Starfield trailers
Here's the official Starfield trailer from E3 2021
You can watch the Starfield E3 trailer above. It's a cinematic showing an astronaut climbing into a spaceship while a robot tromps around on the surface. We get a nice look at the ship while a voice over says "What you've found is the key to unlocking… everything," and "We've come to the beginning of humanity's final journey." The pilot sits at a console, flips a bunch of switches, and the trailer ends with rockets firing and the ship about to take off.
You can also watch the first episode of a new series on Starfield from Bethesda called Into the Starfield below, which breaks down their inspirations, shows off new concept art (including some gorgeous animated ones), and talks about the game.
What are Starfield's setting and gameplay like?
Starfield has exploration at its heart.
Bethesda showed a little bit more of its hand on Starfield with a recent extended video that had game director Todd Howard, studio director Angela Browder, and art director Matt Carofano chatting about inspirations for the upcoming space RPG.
"A lot of our games are about exploration, and that's the ultimate exploration, is what's out there? What's past Earth?" said Carofano. "Whereas Skyrim is sort of an epic fantasy, this is a more grounded game and a more grounded setting about exploration…"
Howard had similar things to say when talking about the impact of exploration and the setting of Bethesda games of the past.
"We always have that 'step out' moment into the world, so to say," Howard says. "The technology has changed. We've all changed. So our expectations when loading up a game, like, 'Okay, I'm going to step out and there's going to be this moment.' Us being able to do that and have it feel new every generation, every game, is something that is really special about what we do."
"I like to say that Starfield has two 'step out' moments. That's cryptic."
One of the recent trailers breaks down the region of space known as the 'Settled Systems', a 50 light year radius around our own solar system where humanity has spread out. It's divided up between two major factions—the United Colonies and the Freestar Collective—who are at an uneasy peace after a recent war. It also touches on some of the other threats the player might face: "Ecliptic mercenaries, pirates of the Crimson Fleet, violent Spacers, or even the fanatical religious zealots of House Va'Ruun."
Starfield has more than double Skyrim's dialog
During the Tokyo Game Show, Howard told the audience that Starfield will launch with a complete Japanese localization and that it has over 150,000 lines of dialog. As Nibellion pointed out on Twitter, that's more than twice as many lines as Skyrim, which had 60,000 of them. It's more than Fallout 4's 111,000 lines of dialog as well. This is going to be one chatty RPG.
Starfield will have a pleasure dome where you can get high on alien fish
In the short videos called "Location Insights", design director Emil Pagliarulo introduced some of the settlements you'll be visiting in Starfield. Each video is less than a minute long and is just Pagliarulo giving a quick summary over some concept art, so they're not much to go on. That said, one of them does seem interesting. Neon was originally built as a fishing platform on an aquatic world, but was retooled as a pleasure city by its owner, the Xenofresh corporation, when they discovered an alien fish with valuable psychotropic qualities. This literal dopefish is now only legal on Neon.
The other videos introduce New Atlantis, the capital of the United Colonies, and Akila City, the capital of the Freestar Collective, which is walled to keep out "alien predators that are a cross between a wolf and a velociraptor."
Starfield's inspirations
The art style was called "NASA-Punk" internally
"Early on in this project when we were trying to establish the overall aesthetic of this game, we sort of coined the term 'NASA-Punk' to describe a sci-fi universe that''s a little more grounded and relatable," Starfield lead artist Istvan Pely told Xbox Wire. "We wanted a very realistic take. You can draw a line from current-day space technology and extrapolate from there into the future so it's believable and relatable."
Puede sonar como un nombre tonto, pero se hizo popular entre el equipo como una abreviatura útil para la descripción tosca y arenosa del futuro de Starfield. "Lo que es realmente interesante es cuánto nos apegamos todos a ese concepto", dijo el animador principal Rick Vicens. "Cuando dijiste NASA-Punk, el equipo de arte podía instantáneamente tomar esas dos palabras y hacer que funcionaran. Era el término perfecto para nuestra dirección de arte y mantener a todos en el mismo flujo y trabajando con un estilo consistente".
Starfield es "como Skyrim en el espacio", dice Todd Howard
Todavía no sabemos mucho sobre la historia de Starfield. En declaraciones a The Washington Post, Todd Howard dijo que Starfield es "como Skyrim en el espacio" y contará con facciones, siendo Constellation, un grupo de exploradores humanos, la principal.
"Es como si la NASA se encontrara con Indiana Jones y la Liga de Hombres Extraordinarios, un grupo de personas que todavía están buscando respuestas", dijo Howard.
"Hay muchas facciones en el juego, pero [Constellation] es la principal de la que formarás parte. Es como Skyrim en cuanto a la estructura del juego, donde vas a ser quien quieras. quieres ser, y luego hay diferentes facciones a las que puedes unirte, y realmente labrar tu propio camino".
También al igual que los juegos Fallout de Skyrim y Bethesda, Starfield se podrá jugar tanto en perspectiva de primera como de tercera persona.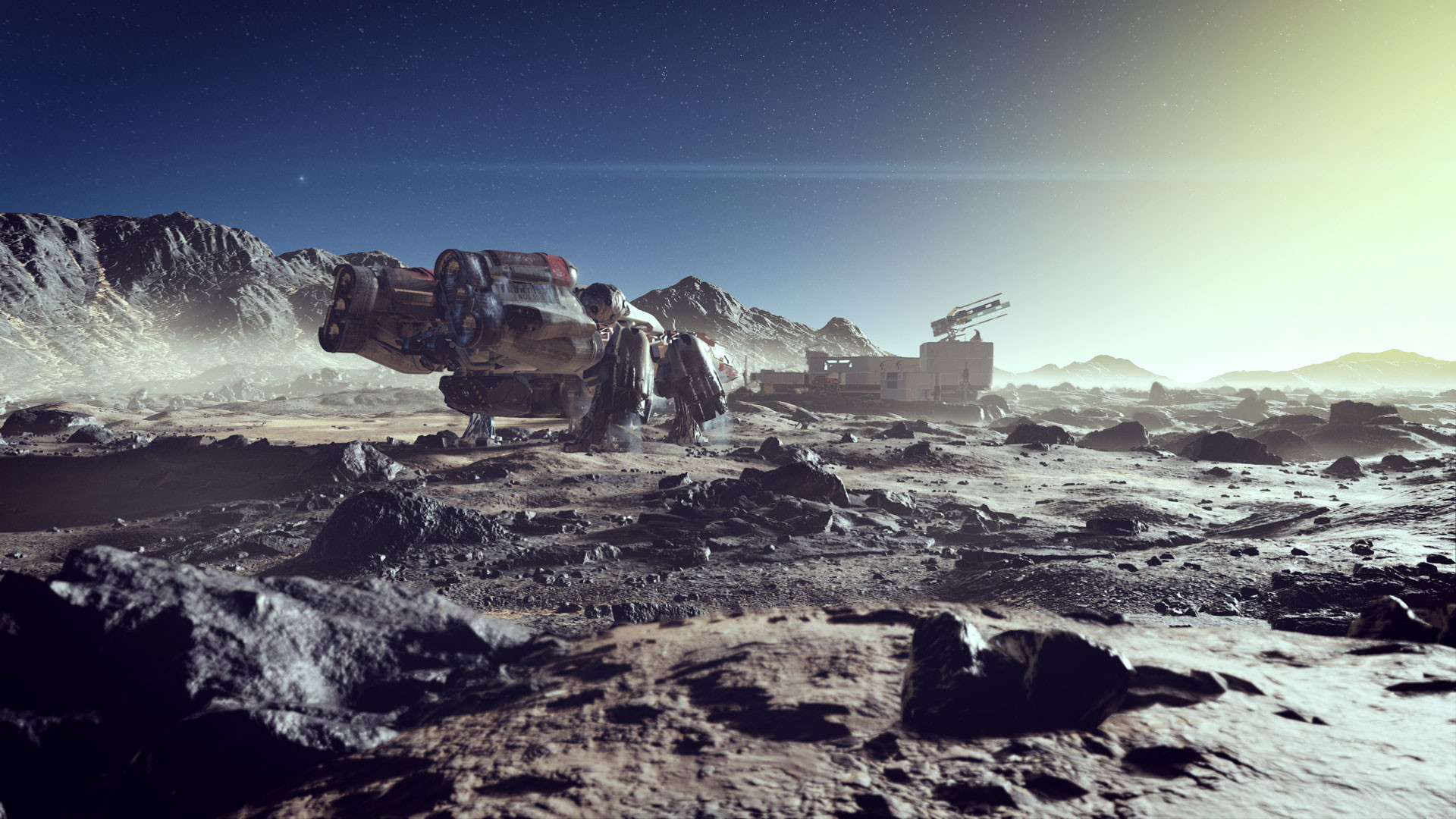 Todd Howard viajó a SpaceX para traer 'autenticidad' a Starfield
En el mismo chat de E3 entre Howard y Musk mencionado anteriormente, Howard dijo que recorrió la compañía de Musk, SpaceX, para investigar e inspirarse en Starfield. No está claro cómo se manifestará esta inspiración, pero Howard mencionó que el helio 3, un combustible especulativo para la fusión nuclear, podría ser el isótopo utilizado para alimentar las naves de Starfield, o al menos es algo para debatir.
El aspecto de la nave en el tráiler muestra una tecnología futurista pero aún reconocible. Muchos botones e interruptores como las cabinas que tenemos hoy, a diferencia de la tecnología súper exótica que vemos en juegos como Mass Effect.
Starfield ha estado en desarrollo durante años.
En 2018, Todd Howard dijo que el proyecto había salido de la preproducción y actualmente estaba en un estado jugable internamente. El avance que se mostró en el E3 2018 se diseñó principalmente para darnos una idea de la atmósfera del juego. En una entrevista con The Guardian, Howard dice: "Llevamos hablando de ello durante una década, empezamos a poner las cosas en papel hace cinco o seis años, y el desarrollo activo comenzó cuando terminamos Fallout 4, así que hace dos años y medio". , tres años."
Aún más detalles de Starfield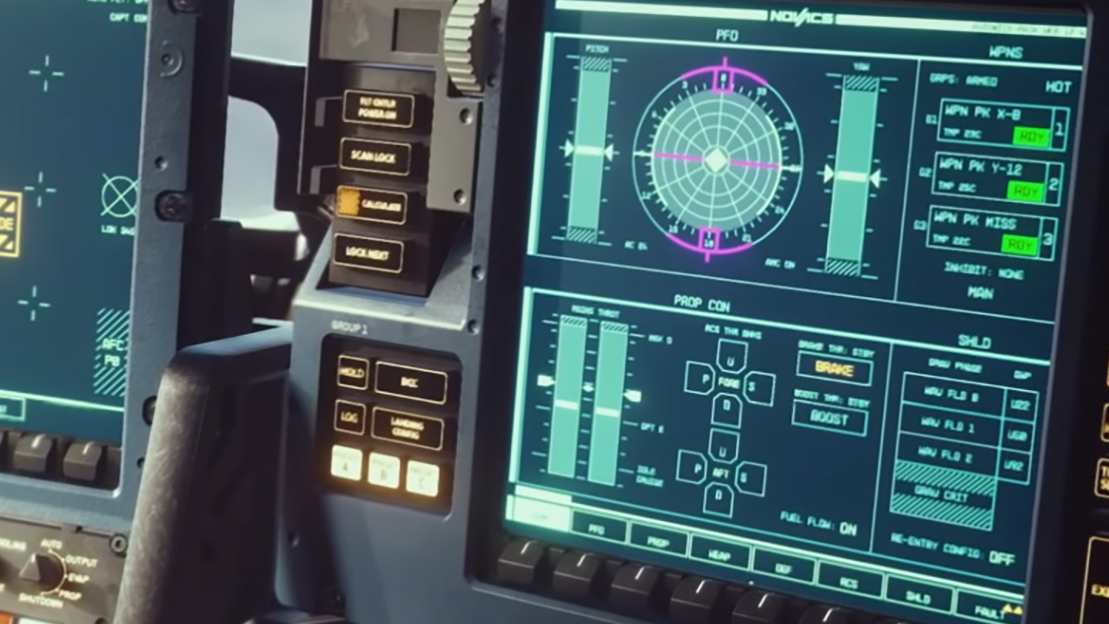 El combate de naves espaciales puede estar en el menú
Esto es solo especulación, pero puede haber un combate de naves espaciales en Starfield. El tráiler muestra la consola de la nave del astronauta, y en una de las lecturas hay una lista de WPNS: Armas. Hay tres opciones debajo (incluyendo MISS, que podrían ser misiles) y la palabra HOT para indicar que las armas están listas para usar.
También hay una lectura de escudos (SHLD) y en otro monitor hay una lectura de energía. Si tenemos armas en la nave y una forma de enrutar la energía a los escudos, eso es una buena indicación de que habrá un combate de naves espaciales, a menos que todo esto sea solo un cosmético elegante.
Starfield está construido en Creation Engine 2
El tráiler comienza con las palabras "Imágenes alfa en el juego | Motor de creación 2" que se muestran en la pantalla. Bethesda confirmó que Starfield es el primer juego construido con el nuevo motor.
No sabemos mucho sobre Creation Engine 2, o cuánto difiere del motor que Bethesda ha estado usando y actualizando durante años para todo, desde Skyrim hasta Fallout 76. Dado que los juegos de rol de Bethesda han sido altamente modificables, esperamos que Creation Engine 2 continúe. la tradición.
Hay una breve función de cómo se hizo que puede ver a continuación que muestra una gran cantidad de arte conceptual interesante.
¿Qué otros datos han surgido sobre Starfield?
En noviembre, en el concierto del décimo aniversario de Skyrim, vimos y escuchamos por sorpresa parte de la música de Starfield y un montón de arte conceptual nuevo. Vale la pena echar un vistazo tanto a la parte relevante del concierto como a las nuevas imágenes del arte conceptual de Starfield.